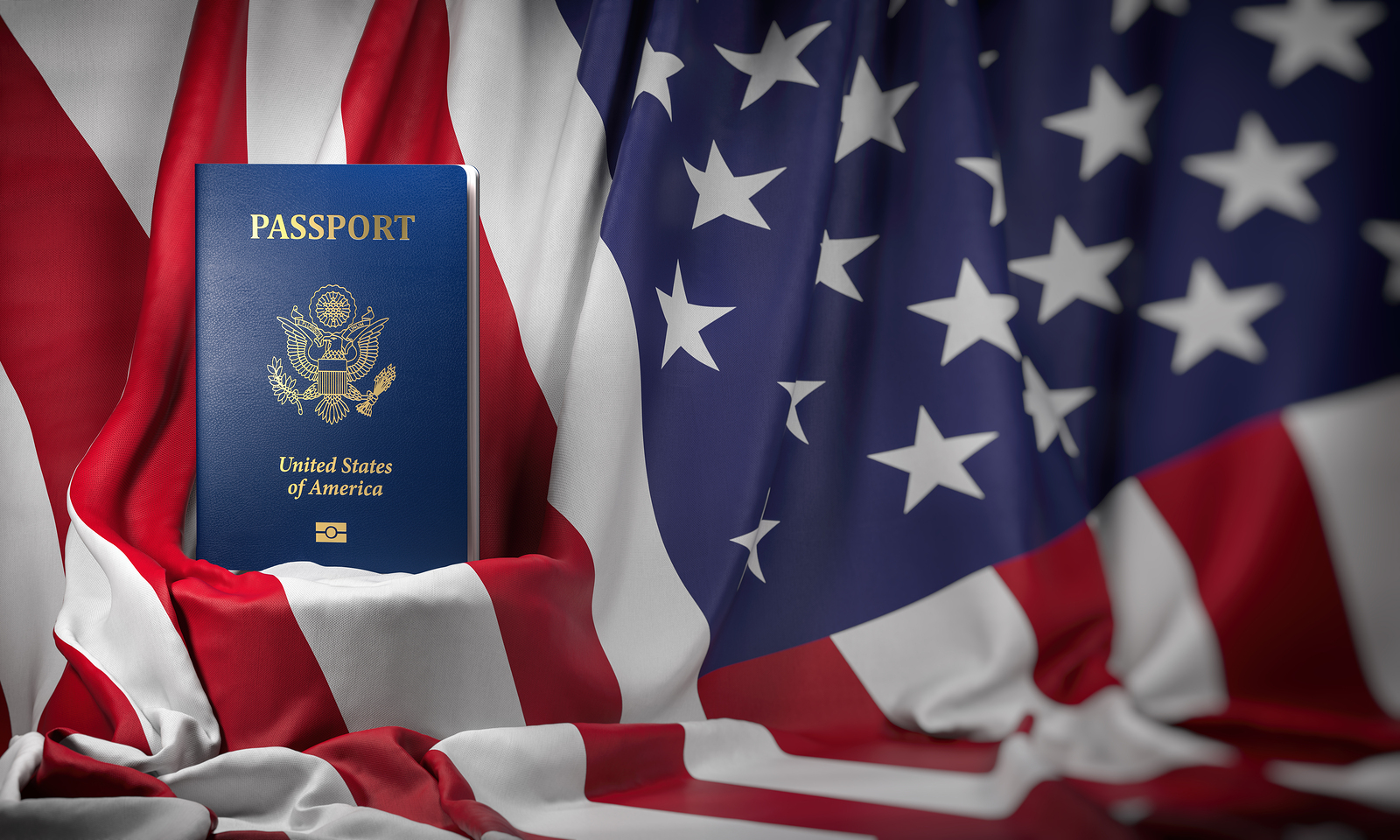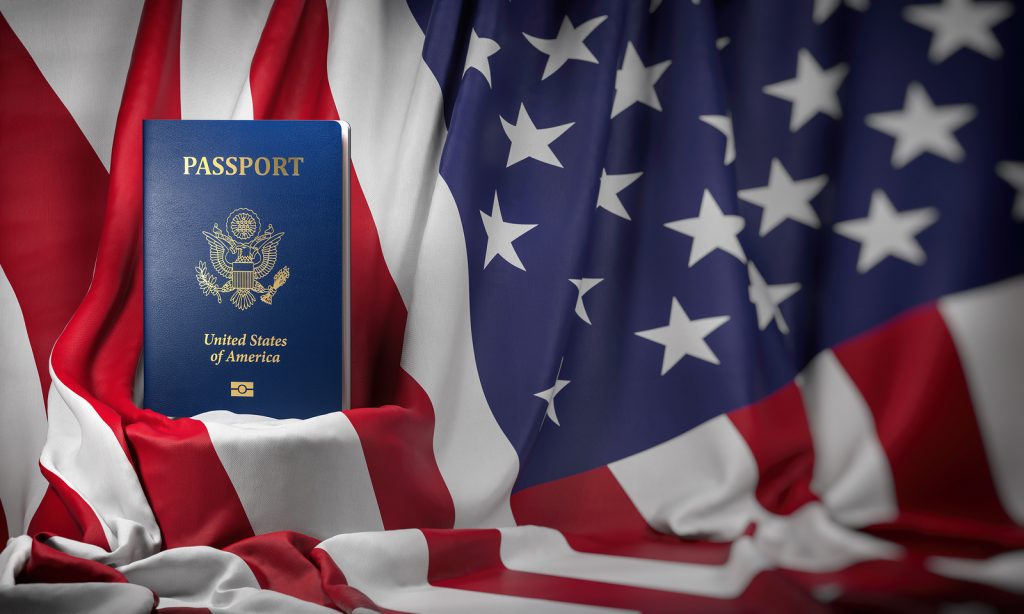 We always need to file for the year before (a.k.a. filing for 2019 taxes in the year 2020) since our worldwide income of that year can only be measured and determined by the end of the year. Now, because of the pandemic, a few changes have been made by the IRS. Here's what to expect in the calendar year 2020 for tax season 2019 as an American Abroad:
New US Tax Deadlines
Due to the coronavirus this year, the following tax deadlines 2020 changes have been made:
July 15 is the newly extended tax deadline for all US citizens, both on land and abroad. This is for both paying and filing US taxes. American expats also have the opportunity to request an extension to October 15th by filing through our app.
December 15 is the very last day to file for your US expat taxes before the new year. You can use the Streamlined Procedure to catch up on your taxes before the new tax season begins.
Receive $1200 Stimulus Check
As it was mentioned in our How to Get Stimulus Check blog, the US government is sending checks of $1,200 or more to US citizens who fall within certain requirements. This includes American expats as well. You can receive money to spend, plus receive an additional $500 if you have qualifying children.
To be eligible for the $1200 check as a US citizen abroad, you'll need to make sure:
You filed a 2018/2019 US tax return for the IRS
Are not dependent of another taxpayer
Have a Social Security number
Have adjusted gross income up to: $75,000 for individuals, $112,500 for head of household filers, and $150,000 for married couples filing joint returns
Do you need to become tax compliant to get the Stimulus check? Sign up through our app, or use our Streamlined Procedure if you need to file for back taxes!
New Tax Filing Thresholds for 2019
As you can see from the chart below, much of the numbers have changed compared to the 2018 tax season. For example, the single filing status jumped up an additional $200 ($12,00 to $12,200).
The married filing separately category remains the same as last year with $5 or more is needed to be eligible to file. So for example, if you are an American living abroad, married to a foreigner and nannying on the side, you will definitely need to file since you will be earning more than $5 a year.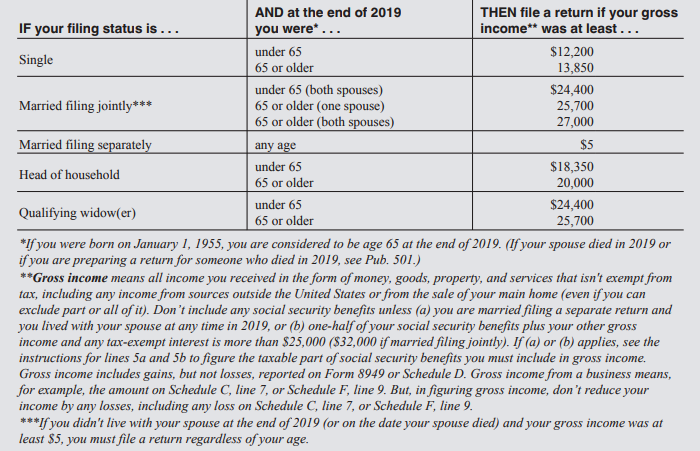 This chart places a large percentage of adult Americans abroad in the position to file their tax returns each year. It is for sure a tax obligation that must be honored if one reaches the gross income.
Standard Deduction Amount Increased
Standard tax deductions make sure that all taxpayers have some income that is not subject to federal income tax. It reduces one's overall tax bill because it allows individuals (like single filers) and companies to subtract certain expenses from their taxable income.
For 2019, the standard deduction amount has been increased for all filers. The amounts are:
Single or Married filing separately—$12,200
Married filing jointly or Qualifying widow(er)—$24,400
Head of the household—$18,350
Readjusted US Tax Rates for 2019
Due to inflation this year, the IRS has readjusted the tax rates and thresholds for filing 2019 taxes in the year 2020:

Tax Benefit FEIE Increased
As we shared in this recent post, the Foreign Earned Income Exclusion (known as the FEIE) is a money-saving deduction. It can also be a breath of fresh air for expats by lowering and completely eliminating your tax liability.
The FEIE is a tax benefit that allows you to exclude a certain amount of foreign earned income from being taxed from the IRS. This is an awesome thing Americans abroad can take advantage of if you qualify.
For the 2019 tax season, you can exclude up to $105,900 of foreign income instead of last year's $103,900. So if you have earned $112,800 working overseas for the year 2019, you can subtract the new FEIE exclusion from your yearly salary. Then you'll just get a small percentage taxed by the IRS.
No More Health Care Coverage Shared Responsibility Payment
Also for tax season 2019 as an American Abroad, there are some new changes with health care coverage. According to the IRS, you will no longer need to either make a shared responsibility payment or file Form 8965 if you do not have the minimum essential health care coverage for part (or all) of 2019.
The IRS also states that the "Full-year health care coverage or exempt" box has been removed from Form 1040.
New Form 1040-SR
Through our research, we've uncovered that Form 1040-SR for US Seniors has been re-designed, because Form 1040 has been redesigned. Form 1040-SR is essentially mirroring the original Form 1040 for individuals born before January 2, 1955 (seniors).
The new form 1040 SR has larger print and simplified boxes and is only for taxpayers who turn 65 or older in the taxable year. Also, there are no limits on the amount of income that can be reported on the form. Plus, no limits on the types of income (though some income could require the taxpayer to attach schedules). Additionally, senior citizens living abroad must take the standard deduction when filing 1040-SR.
Or better yet, forget manually filing and doing the paperwork. Senior citizens can utilize our user-friendly software and gain our assistance as they walk through it.
New Features in MyExpatTaxes Software for Tax Season 2019
MyExpatTaxes is excited to announce the following new features in our 2019 Tax Season release:
Full Streamlined Filing Capability: File for 4 Years (3 Back Years + Current Year) & 7 Years of FBARs (6 Back Years + Current Year) all in the app. Info about the eligibility for the Streamlined Procedure can be found here.
Form 8621: Passive Foreign Investment Company (PFIC) reporting abilities will be supported through our higher support model
Professional Support Models: As requested, we will offer more support models in addition to our speedy online app abilities
Discount Special for Americans Abroad
Our loyal newsletter subscribers got a chance for a special discount for filing taxes in the the 2019 tax year. If you haven't signed up yet, make sure to do so through our app to save even more for your expat tax filing. Being a newsletter subscriber through MyExpatTaxes, you will receive exclusive deals and tax benefits you can only get through us!
This post was updated on June 27, 2020.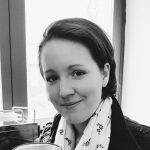 17
May
Deadline to file if you owe taxes to the IRS. Sign up now to start filing!
Did you know that the FBAR deadline still remains the same, even despite new tax filing and payment deadlines are ...