MyExpatTaxes at the FEM Summit
Co-founders Nathalie Goldstein, Markus Finster, and Joachim Niederreiter are currently in London, England this week for the Expatriate Mobility Awards (the EMMAs). Hosted by the Forum for Expatriate Management (FEM), MyExpatTaxes has made it onto the shortlist for the Provider of the Year and Most Innovative Use of Technology in the Global Mobility awards. As we mentioned in a recent post, this will be the second big event for the team to attend within their first year of launching.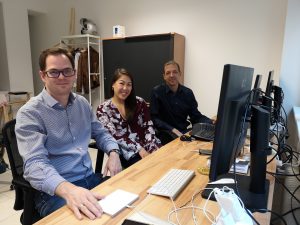 The EMMAs are known to ''celebrate success, best practice, and outstanding contribution to global mobility.'' This means that the co-founders will be joining the world's most renowned mobility professionals, tax experts, and HR specialists to discuss and collaborate on how to innovate with our international workforce.
Additionally, the MyExpatTaxes co-founders will be facilitating a Corporate Roundtable Discussion. The focus of the discussion will be: Technology in the Expat Taxation – Disrupting the Industry through Innovative Software.
This particular roundtable discussion will discuss how with the increase of expatriates, tax firms are experiencing pressure on pricing and high competition. Expat tax preparation is complex and cost-intensive, making it ripe for disruption, therefore the discussion will focus on how software can drastically improve taxpayers' experience while reducing firm costs through automation. This, in turn, should result in lower fees, higher accuracy and speedier returns for end customers as well!
As you can imagine, the MyExpatTaxes software and its ability to be extremely convenient for U.S. expats is a perfect product to present during the talk.
MyExpatTaxes is the only comprehensive software solution for U.S. expat taxpayers available. It's easy, smooth, and dare we say it – STRESS-FREE to work with. You'll get all your taxes done in 30 minutes or less – guaranteed. It is truly software based – putting you in control of your taxes without charging you extra just because you're an expat. Basically – it's expat taxes made simple and affordable.
For press and media inquires, fill out the contact form below.