MyExpatTaxes Featured at Tax Tech Konferenz 2019
COO and co-founder Markus Finster had the privilege of introducing the MyExpatTaxes software, and being part of a special panel at the Tax Tech Konferenz in Vienna, Austria last week. This was a great opportunity for Markus to showcase the company's service and growth to specialists within the sectors of taxes, accounting, and law.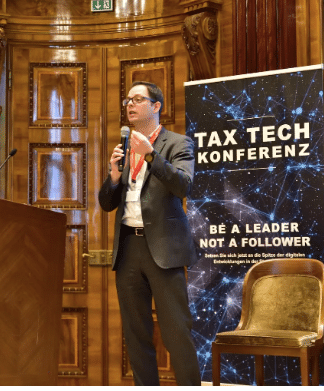 Tax Tech Konferenz highlights the future of tax consulting industry and the tax professionals especially. This is because tax consultants are rarely in the spotlight, yet provide people with the security of completing taxes effectively. Tax Tech Konferenz focuses on the professionals, how to optimize tax-relevant work processes, and how the age of digitization impacts the future of their careers.
Additionally, Markus was featured as a panel speaker for the topic: How New Approaches, Technologies, and Startups are Changing the Industry. Within it he discussed how marketing works as a startup, the challenges and techniques of rising above the rest, as well as how innovative technology like the MyExpatTaxes software is changing up the tax industry.
MyExpatTaxes started from a real problem and turned into a software solution for 9 million Americans living abroad. An expat tax software engineered by Markus and his team, it is now serving customers in over 70 countries around the world within their 2nd year of being founded.
For press and media inquires, fill out the contact form below.