How to Get Stimulus Payment as a US Expat
All blogs are verified by IRS Enrolled Agents and CPAs
The US government has allowed US citizens to get three sets stimulus checks paid between $600-$1,400 with whomever met the certain requirements in 2020. Those who can receive checks includes Americans living abroad – and if you have eligible children, you could receive an additional $500-$600 too.
Now, what happens when you figure out you are eligible as an American expat, and want to get your Stimulus payment as soon as possible? Below we showcase basic support and updates, plus a personal example of what an American abroad did to receive her stimulus check, so you can too.
Basic Information About US Stimulus Payment
First Stimulus Check
US citizens will be able to benefit from a $1,200 check or more within the following conditions:
You filed a 2018/2019 US tax return for the IRS
Are not dependent of another taxpayer
Have a Social Security number
Have adjusted gross income up to $75,000 for individuals, $112,500 for head of household filers, and $150,000 for married couples filing joint returns
If your adjusted gross income (AGI) is over the US Stimulus payment threshold ($75,000) you can still receive a check – but it will reduce according to your AGI.
Second Stimulus Check
The second wave of US Stimulus checks for American expats came out in early January 2021. These checks included $600 or more – half the amount of the first check. Every qualified dependent (ie: child under 17 with a US Social Security number) will get $600.
Third Stimulus Check
Generally, becoming eligible for the third economic impact payment is the same as the second check. But, the price has increased to $1,400 for US citizen individuals, and $2,800 for US couples who file jointly.
What is new for this check is that qualified dependents like the elderly, disabled adults and college students can also receive $1,400.
Social Security Recipients Information
If you are a SS recipient who receives monthly deposits from the US government, it is typically not a requirement to file a US tax return and need not take any action. You should be able to receive your Stimulus checks exactly how you normally receive your benefits.
Didn't file a Tax Return?
If you didn't file your 2020 tax return: Take advantage of the MyExpatTaxes software and file before July 15th!
If you didn't file for previous years (2019 and before): You can utilize the MyExpatTaxes Streamlined Procedure package and become tax compliant for the IRS. Once you're tax compliant, the IRS will send your due checks.
If your worldwide income was lower than the tax filing threshold: You can still receive the Stimulus check by applying as a non-filer as a US citizen abroad. Unfortunately, the IRS Non-Filer portal is closed, so you'll need to file a tax return to receive stimulus checks.
Essentially, as a US citizen abroad who couldn't qualify for the first and second check in 2020 could do so in year 2021. In order to claim these checks, you should have claimed the FEIE or have had less income in 2020 – as it lessens your adjusted gross income. To see if you qualify for stimulus checks, you can check via our software!
You can also take advantage of the Recovery Rebate Credit to receive the full stimulus payments you may have missed out on.
Example Timeline of Getting the US Stimulus Check
In 2020, one of our team members went through the entire process and got her US economic stimulus check. This is what she did:
eFiled through the MyExpatTaxes tax software on April 12, 2020.
Within the filing process, she added a US address on Form 1040 for the IRS to send her check to, and her foreign address on Form 2555 (Foreign Earned Income form).
She could utilize a special feature only MyExpatTaxes has for their American abroad customers: Adding a US bank account for direct deposit even though she had no entitlement to a refund.
A few days later after submitting her forms via the MyExpatTaxes software, she started checking the IRS Get My Payment Tool everyday. This was to see what her status was regarding her Stimulus Check. It only took a few minutes of her time, since all she needed to enter was her social security number, birth date, address and postal code.
On April 20, 2020, when she used the IRS tool again, the IRS stated that her payment was scheduled to be deposited in her listed US bank account on April 29, 2020. Her US stimulus payment was deposited successfully in her US bank account on April 29, 2020.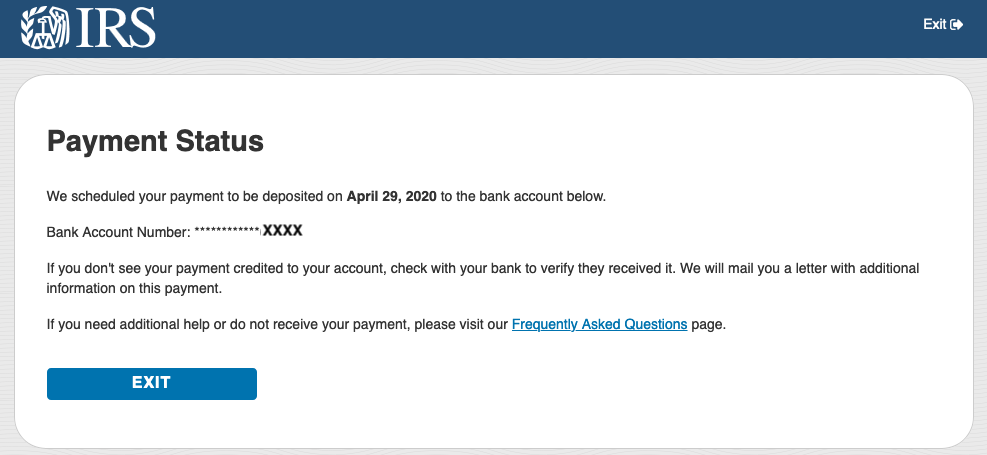 Need a US bank account to receive the check? Opening a US bank account via Transferwise is a good idea.
Get Your US Stimulus Payment ASAP
Our team is ready to help you as an American abroad receive US stimulus checks as soon as possible. If you haven't filed your US taxes already, do use our expat tax software. Start for free and pay when convinced!