Voting as a US Citizen Abroad: Survey Results 2020
Expat Tax Blog | Tax Tips for US Americans Abroad
All blogs are verified by IRS Enrolled Agents and CPAs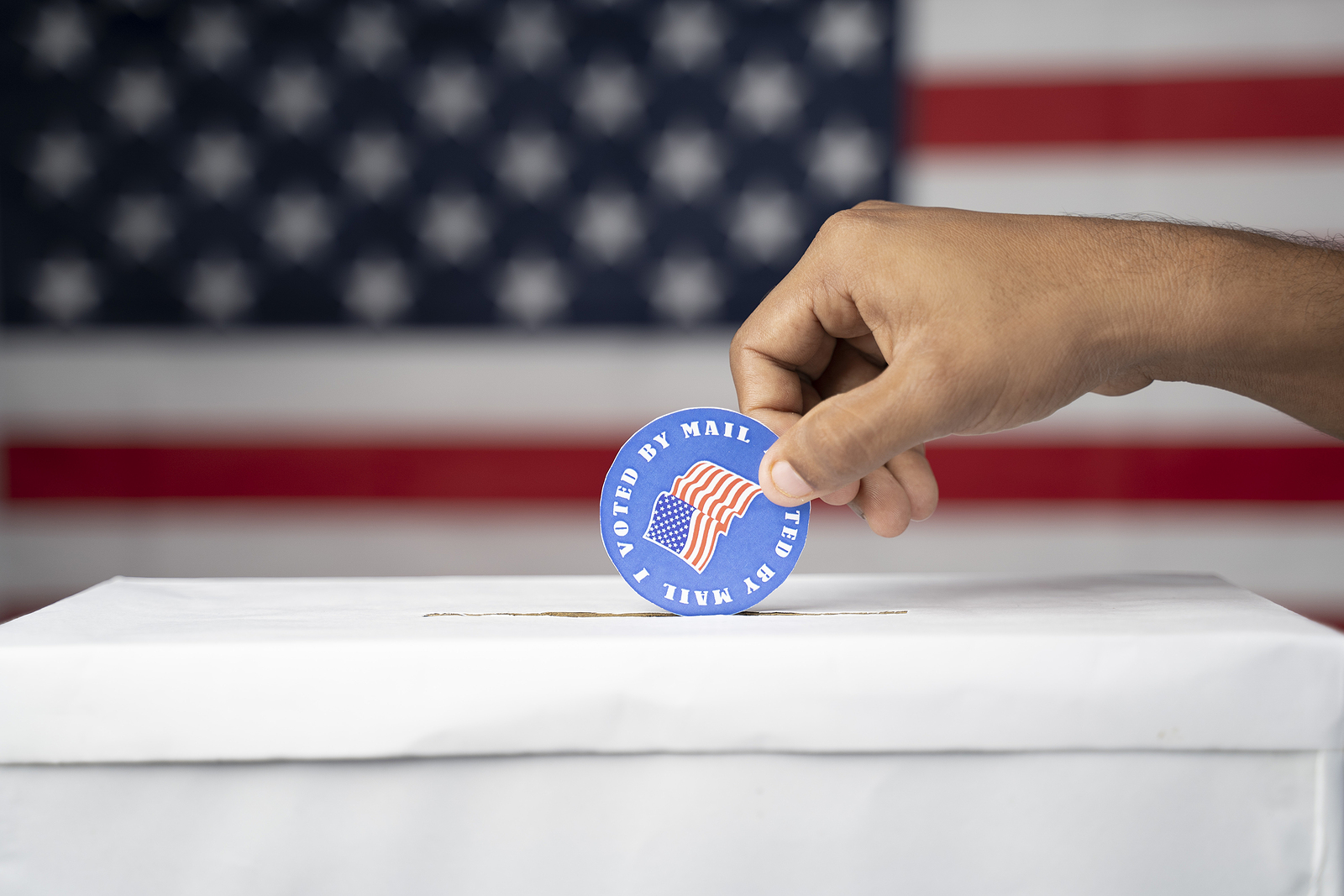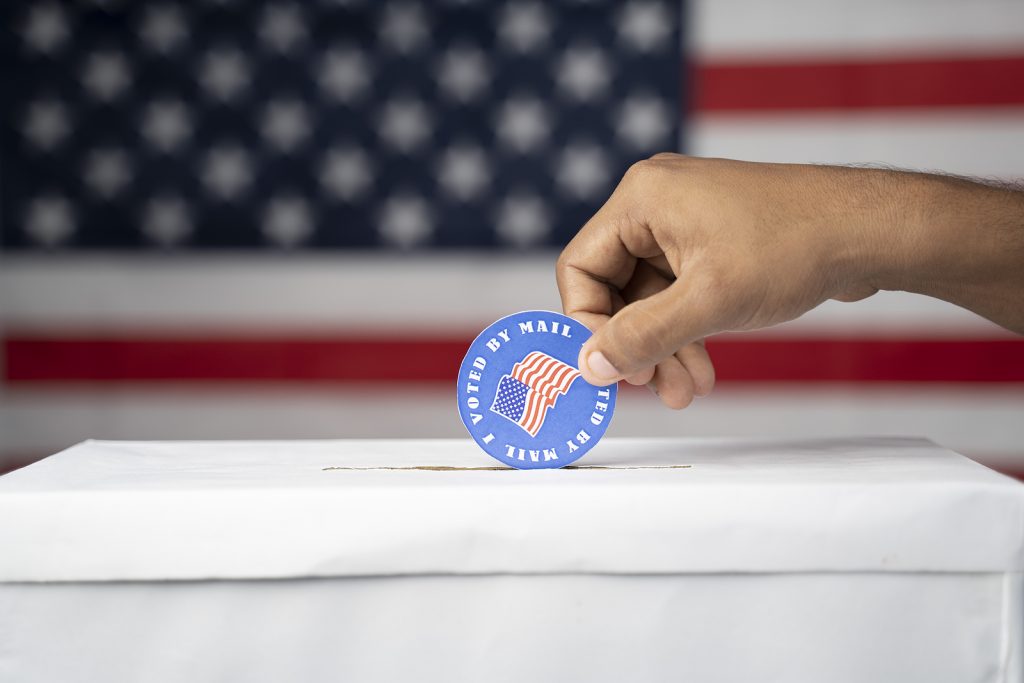 This coming week is a big deal for US citizens. We soon find out who will be the next President of the United States. Perhaps you have already voted, and if you did – thank you for your participation! Voting as a US citizen abroad is important.
Over the last two months, we put out a survey to see how many of our customers registered to vote and are planning to vote for the upcoming election. Voting is a right and a privilege and we wanted to see how many of our US expat customers were going to use it.
Of the approx 400 taxpayers abroad who participated, here are the results!
Survey Results
Our survey questions were simple. We asked two:
Have you registered to vote?
Are you planning to vote for the 2020 Presidential election?
The survey was closed in mid-October.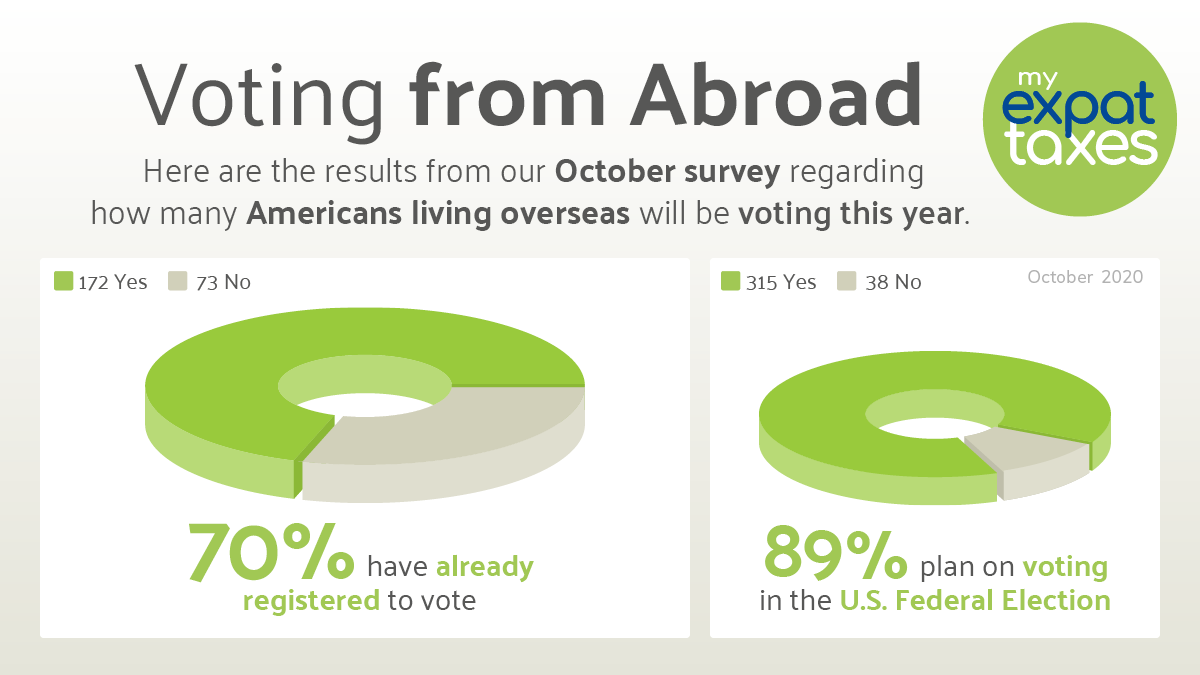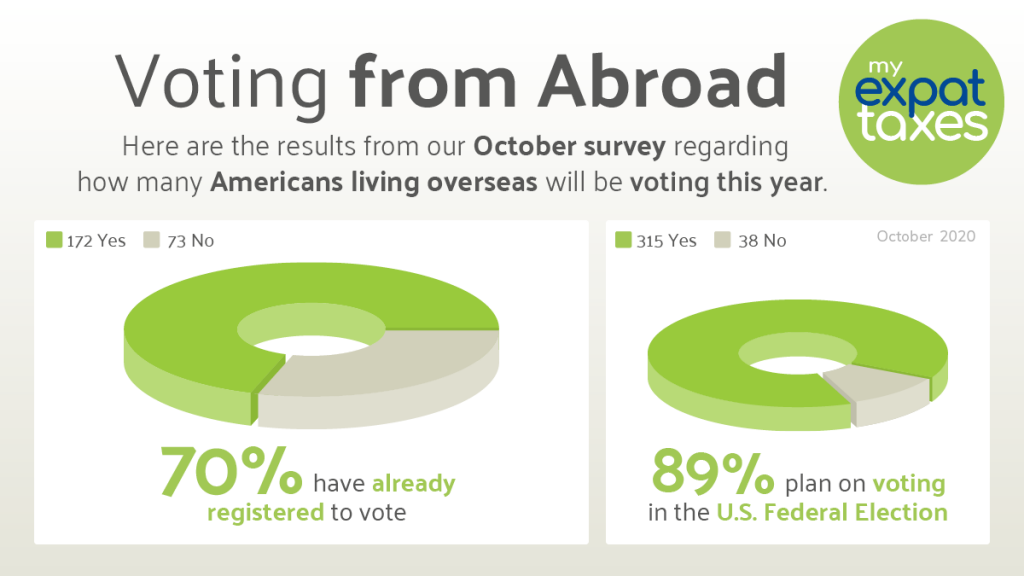 70% of expat tax filing customers who were surveyed are already registered to vote
89% of expat tax filing customers who were surveyed plan on voting in the U.S. Federal Elections
Keep in mind this is a limited sample from our MyExpatTaxes customers and not represented by an entire population!
This is quite big news. The Washington Post reported that voter turnout in the 2016 Presidential Election was the lowest since World War 2. Only 36.4 percent of the voting-eligible population cast ballots and only 1 million out of 6 million Americans abroad voted.
Official results will come out post the election, however per our early survey results, it does look like the tides have turned, and expats were motivated to vote!
Voting Overseas as an US Citizen Abroad
Voting is a natural right and privilege of a US citizen, but it is not mandatory. However, voting is consequential. Your vote can make great impacts regarding who will be the next President of the United States and more. Policy changes and foreign affairs can have a grand effect on the world.
Currently, there are 9 million Americans abroad, with more than half the voting age. Our vote has a lasting impact on leaders worldwide. So whether we are living in Canada, the EU, Asia, and beyond – there's impact. This is why we must use our voting right wisely!
Expat Taxes and Voting
You may worry whether you can still vote if you have not been filing your US taxes. Due to the complexity of US returns, expats could be faced with IRS auditing.
However, the truth is, voting happens on a state level. So voting according to your state won't affect your expat taxes or increase your chances for an audit.
Your tax profile or status will not be influenced if you decide to vote in the federal elections.
If you vote for state or local elections, this may be a factor to trigger state residency, however that should not deter you from voting. State residency and the requirement to file state taxes is usually dependent on a number of factors, such as ownership of property and number of days spent in the state.
If you do not have a property or home in the US to vote from, you can still vote according to the Uniformed and Overseas Citizens Absentee Voting Act.
With COVID-19 and President Trump's drama, the 2020 elections will certainly be an interesting time for all of us.
Voting from Abroad
Voting abroad as a US citizen should be done a month or two before the primary election day, November 4.
The recommend process is:
Registering in the last state you lived, or if applicable, where your parents are living. You can then request through an US voting organization and receive a mail-in ballot to fill out and mail in.
If you are a Democrat or Republican and want to get involved with the political parties from abroad, you can check out the following:
One of the best places to go to for expat voting support would be the US Embassy or Consulate. They typically offer online news and updates about the US and the country you're living in. In some cases, they can mail in your absentee ballot for you.
Your Vote Matters
As an American expat voting for the first time or twentieth, your vote definitely matters and will impact the future citizens of the United States and the entire world.
If you need further assistance regarding living abroad and expat taxes, we provide a DIY friendly expat tax software, tax guides, and resources for Americans living overseas. You can file your tax returns for a flat fee of 149 Euro. We strive to make expats' lives better with technology that is simple, affordable, and trustworthy.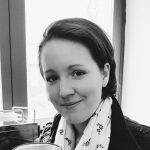 17
May
Deadline to file if you owe taxes to the IRS. Sign up now to start filing!
For 2021, the US tax filing deadline for expats to file is June 15. This deadline is a result of ...