Filing US Taxes Abroad in 2022
All blogs are verified by IRS Enrolled Agents and CPAs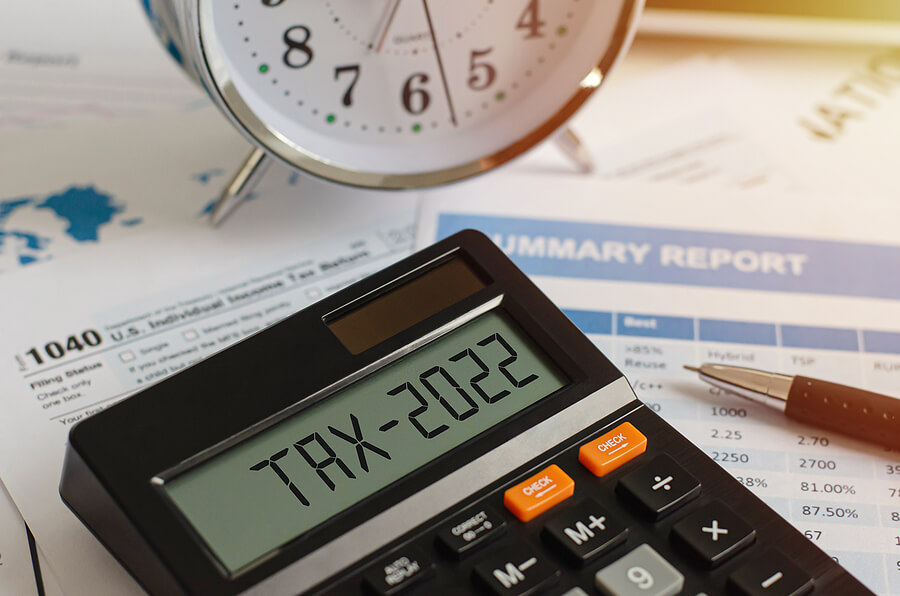 Happy 2022 Expats! It's a new year, and we here at MyExpatTaxes are delighted to be the best source of tax information an American expat filing their taxes could ever want. Whether you've had a child, still need to claim your third-round stimulus check, or you want to know how much income you can exclude on your FEIE this year, we've got you covered. Keep reading to learn everything you need to know about filing US taxes abroad in 2022.
Updated Filing Thresholds
As is standard practice, the US government has increased filing thresholds, standard deductions, and FEIE maximum exclusions to allow adjustments related to inflation.
In 2022, You Have to File a 2021 Tax Return if:
You earn more than the standard deduction of $12,550
You make any self-employment income over $400
You're married, filing separately, and earn any worldwide income over $5
If you live and work abroad, you may not owe any US taxes – however, you'll still need to file!
Expat Tax Deadlines for 2022
You may know that expats get an automatic extension when it comes to filing their taxes every year, but did you know that you still have to pay any taxes owed by the regular filing deadline? That's why it's so important to be aware of all tax deadlines. And don't forget about the FBAR if you need that too!
| | |
| --- | --- |
| Standard Filing Deadline for 2021 Tax Return | April 18th, 2022 |
| Payment Deadline for 2021 Taxes Due* | April 18th, 2022 |
| FBAR Deadline for Non-Expats | April 18th, 2022 |
| Automatic Extention for Expats | June 15th, 2022 |
| Extended Deadline for Expats Filing Form 4868 (by June 15th) | October 15th, 2022 |
| FBAR Deadline for Expats | October 15th, 2022 |
*If you owe any taxes, they have to be paid by April 18th. This deadline applies even if you have an automatic or requested tax extension. The extension only applies to the filing deadline, not the payment deadline.
Additional Child Tax Credit Updates
There is good news for parents in 2022. The age threshold for children to qualify for the Additional Child Tax Credit has increased from 17 to 18. Therefore, as long as your qualifying child was UNDER the age of 18 by December 31st, 2021 you may be able to claim them for this credit. They must have a valid social security number by the DUE DATE of your 2021 tax return, including extensions, to claim the credit.
Parents who are living in the US
If you lived in the US for more than half the year in 2021, you can claim the Additional Child Tax Credit. You also can recieve, as a refund, payment of up to $3,600 for qualifying children under the age of 6 or $3,000 for those between 6-17 (under 18).
Parents who are living outside the US
If you lived in the US for less than half the year in 2021, you can also claim the additional child tax credit. For you as a refund, you can recieve up to $1,400 for all qualifying children under the age of 18.
Meaning, expats who live abroad year-round may not qualify for the new, higher refundable amount of the Child Tax Credit. While expats may not receive the total amount as a refund, year-round expats will still benefit from is the new, higher age limit!
Child and Other Dependent Care Credit Updates
Yes, even more opportunities for families to save. One of the best ways to save money on your taxes this year is via the Child and Other Dependent Care Credit. This credit is specifically for families who pay for care or services in order to go to work or spend time looking for a job. The credit pays you back, at least in part, for money spent on childcare or dependent-related-care.
The American Rescue Plan (ARP) of 2021 increases the Child and Dependent Care Credit up to a maximum of $8,000 for one qualifying dependent or $16,000 for two or more dependents. The former maximum amount one could claim was just $3,000 for one dependent and $6,000 for two or more dependents.
As in previous years, the credit is only claimable for expenses related to employment and only covers a portion of those expenses. Before 2021, the amount worked out to just 35%. With the new ARP in place, caregivers can claim up to 50% of care-related expenses. That's a maximum possible credit of $8,000 for someone with two or more qualifying dependents.
How Much can you Claim for Care when Filing US Taxes Abroad in 2022?
If you're a part-time expat and have lived within the US for more than half of 2021, you can claim the new higher deduction. Additionally, if the deduction is more than the taxes you owe, you can claim the remaining allowance as a refund!
If you're a full-time expat or you spent more than half of 2021 outside of the US, you can still claim the full higher deduction. However, you won't be able to claim any of it as a refund.
The IRS defines a qualifying dependent as a child who, in 2021, is under the age of 13, a spouse who cannot take care of themselves, or another dependent or person who cannot care for themselves and lives with you for more than six months out of the year.
You Can Still Claim your Third Stimulus Check
As you probably know, expats can qualify for the third economic impact payment. If you have yet to claim it, it's not too late. You can still use your 2021 tax return to claim a refund. Simply claim it when filing your 2021 taxes for expats in 2022.
How high could the third stimulus payment be?
Married couples filing jointly are eligible for up $2,800
Persons filing separately are eligible for up to $1,400
Additionally, you can receive up to $1,400 per qualifying dependent
You may reduce your payment if your joint income in 2021 was over $150,000 (also applies to qualifying widows/widowers) or your head-of-household return was over $112,500. You could reduce the total sum of stimulus payment if you filed under any other tax status and your 2020 adjusted gross income is over $75,000.
If you have yet to receive the latest stimulus payment and believe you should qualify, you can claim it on your 2021 tax return this year. You can also fix it if you didn't receive the proper amount because either your income was lower in 2021 than in 2020, or you added a new addition to your family in 2021.
How Much Can You Exclude Using the FEIE?
American expats and others with foreign income can use the Foreign Earned Income Exclusion to exclude foreign earnings up to $108,700 when filing US taxes abroad for 2021.
Before using the FEIE, US Citizens abroad may want to consider whether the Foreign Tax Credit is a better choice. Both are good ways to reduce your US tax burden. However, one may be better than the other, depending on your exact circumstances. MyExpatTaxes specializes in topical tax problems for Americans outside the United States. We are also the only expat tax software available that optimizes your return automatically and applies for the best expat tax benefit.
Pandemic Tax Benefits Changes in 2022
Changes in Pandemic Access to Retirement Funds
To offer some tax relief to persons living in federally declared disaster areas – congress allowed those citizens to access their retirement funds while avoiding certain taxes and penalties. In 2022, US Taxpayers will no longer be able to take advantage of this relief on their 2021 tax return.
When filing US taxes abroad, it is essential to note that if you already took advantage of the program on your 2020 Tax Return and used the Three Year Spread Method (see your 2020 Tax Return – Form 8915-E), you MUST continue to claim that income in 2021 and 2022.
For example, you distributed $100,000 in qualified retirement plan distributions and elected to spread it over three years. Therefore, you report your qualified retirement plan distribution income like this:
| | | |
| --- | --- | --- |
| Tax Year 2020: $33,333 | Tax Year 2021: $33,333 | Tax Year 2022: $33,333 |
The Unemployment Compensation Exclusion may be Finished
In March of 2021, as part of the American Rescue Plan, new updates were made to the Unemployment compensation Exclusion. With this exclusion, you would not have to pay income tax on up to $10,200 of unemployment benefits for the tax year 2020. Married couples could exclude up to the same amount per person. If your 2020 modified adjusted gross income is more than $150,000, you are not eligible for the exclusion.
Up to now, there has been no official new information about whether or not the Unemployment Compensation Exclusion will carry over into 2022 for your 2021 tax return.
You Can Keep Using your 2019 Income
You can continue to use your adjusted gross income (AGI) from the 2019 tax year to maximize your Earned Income Credit and your Additional Child Tax Credit. If your total income for 2019 was higher than that of 2021, you'd benefit by using your 2019 income. This opportunity is available to taxpayers because their 2021 income may have been lower than average due to reasons associated with the pandemic.
Plan Ahead
There is a lot to consider when filing taxes for Expats in 2022. As you can tell, the rules and regulations are changing every year. The best way to make sure you stay in good standing with the IRS when filing taxes abroad, is to always plan ahead and start early.

Had a new addition to the family this year? Get your new child a social security number ASAP to claim the third stimulus payment and the Additional Child Tax Credit on your 2021 tax return!
Not sure how to get an SSN for your new child? We've got you covered. Check out our guide for Accidental Americans, where we cover how to get an SSN, a US passport, and more.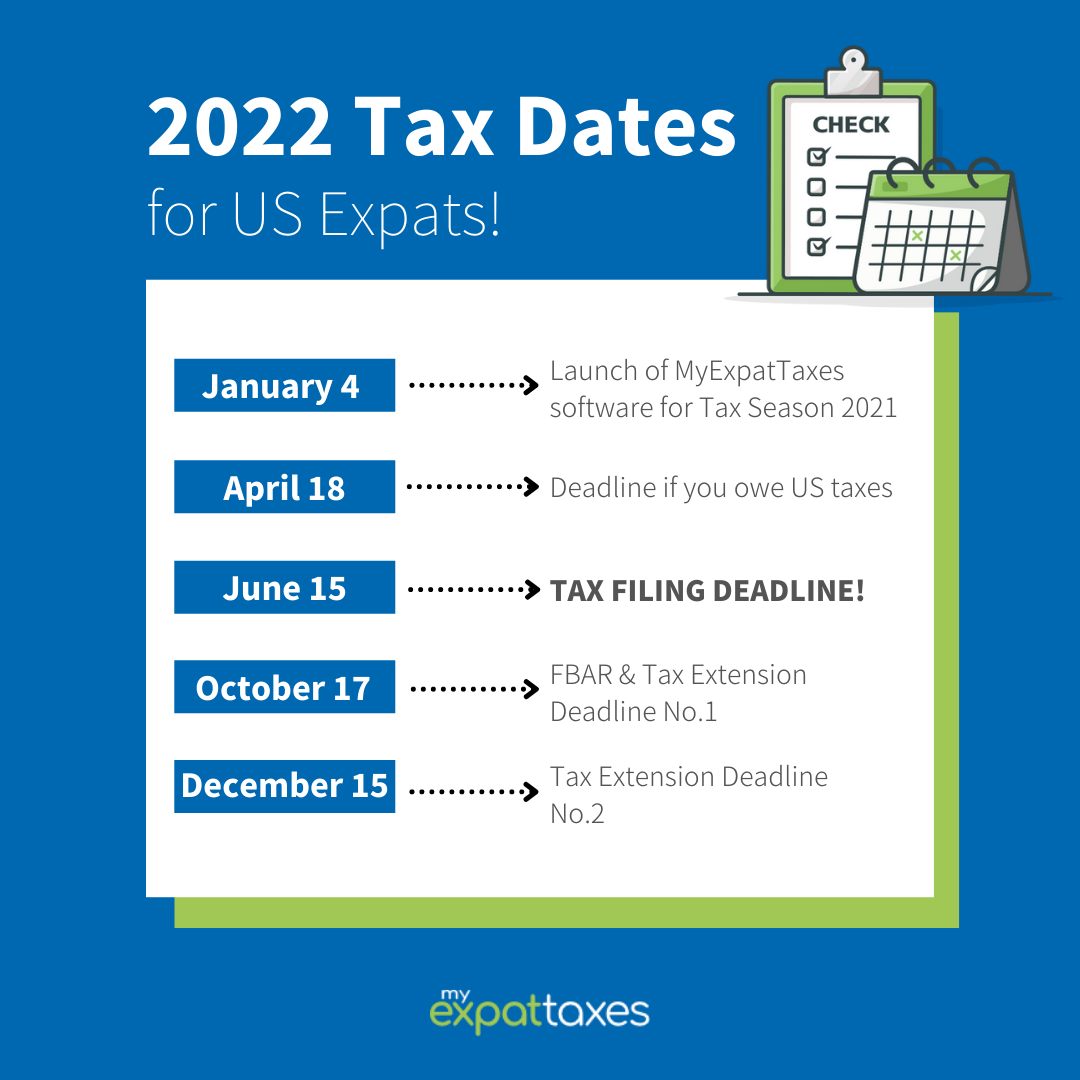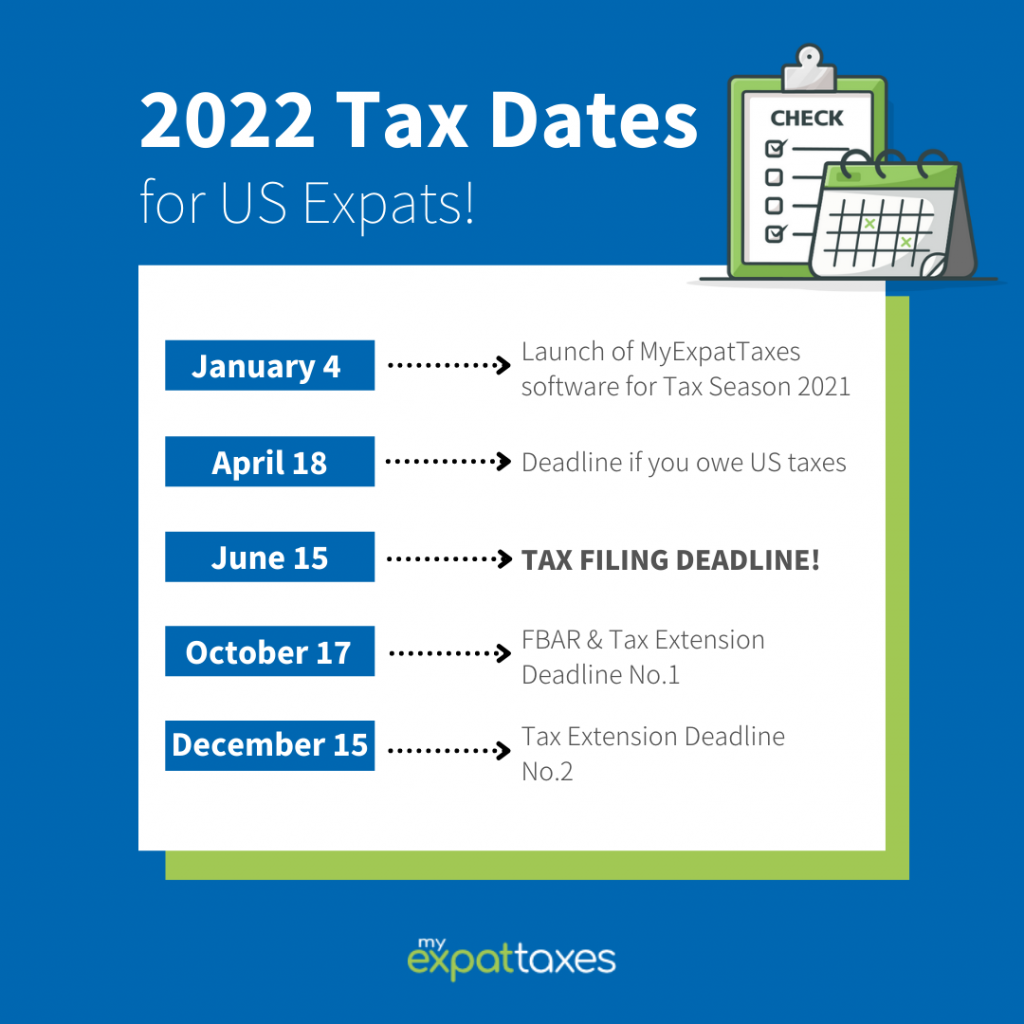 How MyExpatTaxes Can Help When Filing US Taxes Abroad
Make sure you know your tax obligations and rights as an American abroad. Check back with MyExpatTaxes or follow us on social media to keep up to date. Better yet, sign-up and file your 2021 taxes with confidence.